there is going to be a big meteor shower early morning january 3rd. from like 3 am - 5 am.
you should try to see some if you can. chances to see 60 meteors an hour!

The source of the Quadrantid meteor shower was unknown until Dec. 2003 when Peter Jenniskens of the NASA Ames Research Center found evidence that Quadrantid meteoroids come from 2003 EH1, an "asteroid" that is probably a piece of a comet that broke apart some 500 years ago. Earth intersects the orbit of 2003 EH1 at a perpendicular angle, which means we quickly move through any debris. That's why the shower is so brief.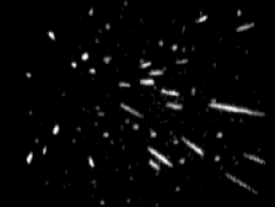 over break i've had a good time with my family. and i had a birthday, too.
i'm taking the bus back to chicago tomorrow and i will probably have to start working really hard because there is, i think, a show that is happening on the 19th that katy and i are going to make a new galaxy in.

tonight is turning into 2009 and i hope it works.

this is a new camera i will be trying in 2009



i want to do so many double exposures

my best friend, carl, got engaged today to jackie. she will be a lima? weird. i bet she gets a big wonderous feeling out of thinking about how shes going to be a lima. 831.

i'll put up some photos of the past 3 weeks but i dont have a scanner right now. there are a few photos im really excited about, though.